2019 dates TBD – May 18 -19th, 2018 "AT THE HOP"!
Join us for a 50's Celebration AT THE HOP for our Annual Exhibition Student Showcase! Friday night our Aerial Silks, Silver Starz and Preteam groups will perform. The rest of the classes will perform on Saturday or Sunday. Complete schedules will be sent out as soon as registration closes for the event.
Register online or at the gym by ___ 2019!
Each year in the spring we celebrate our student's gymnastics achievements in a themed exhibition. We've gone Hollywood, journeyed Undersea and to CandyLand, Rodeo-ed and Out of this World plus many other fun themes! The gym will be decorated top to bottom and our instructors will be here to help your child show-off their gymnastics skills. Smiles are guaranteed! Bring your camera for candid shots. We provide a professional photographer for high-quality photo memories of your child's special day.
For our preschool students, there are no routines to learn. At exhibition your child will be performing skills and working with the instructor in a format very similar to their typical class, so "stage fright" isn't an issue at our exhibitions. For elementary/ middle school students, classes may choose to learn a short routine. Each class helps select their favorite skills to show-off! All participants receive a custom award.
Our Friday evening performances will be the following groups: Silver Starz, Silver Starz 2 and all Aerial Silks classes. All other classes will be on Saturday. We schedule class groups to perform beginning in the morning (usually the first groups begin at 9am). Plan to arrive 20 minutes before your child's performance. Performances last about 1 hour. Your exact performance time will be emailed to you about 2-3 weeks before the event. If you have other activities scheduled for that Saturday, let us know and we will do our best to schedule your child at a time that does not conflict.
---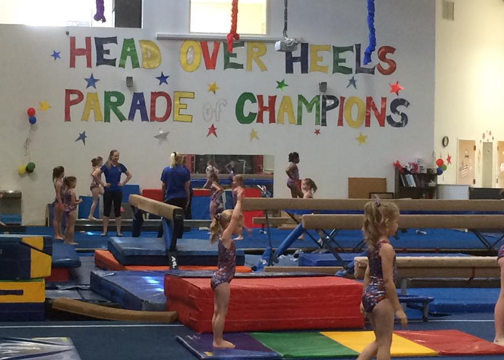 Share This with Your Friends!