Annual Exhibition 2024 TBA!

EXHIBITION Apr 28-29, 2023 "Super Heros"!
---
Join us for our Annual Exhibition Student Showcase!
Get ready, Super Heros! Exhibition April 28-29, 2023
Enrollment closed for 2024 -TBA.
Each year in the spring we celebrate our student's gymnastics achievements in a themed exhibition. We've gone Hollywood, Hawaiian Luau, journeyed Undersea and to Parade of Champions, Rodeo-ed and Out of this World plus many other fun themes! The gym will be decorated top to bottom and our instructors will be here to help your child show-off their gymnastics skills. Smiles are guaranteed! Bring your camera for candid shots.
For our basic classes, there are no routines to learn. At exhibition your child will be performing skills and working with the instructor in a format very similar to their typical class, so "stage fright" isn't an issue at our exhibitions. Each class helps select their favorite skills to show-off! All participants receive a custom award, cost includes admittance for family.
You can choose your performance time when you register. Plan to arrive 20 minutes before your child's performance. Performances last about 1 hour.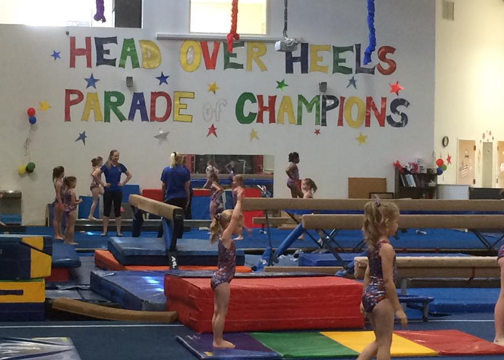 Share This with Your Friends!